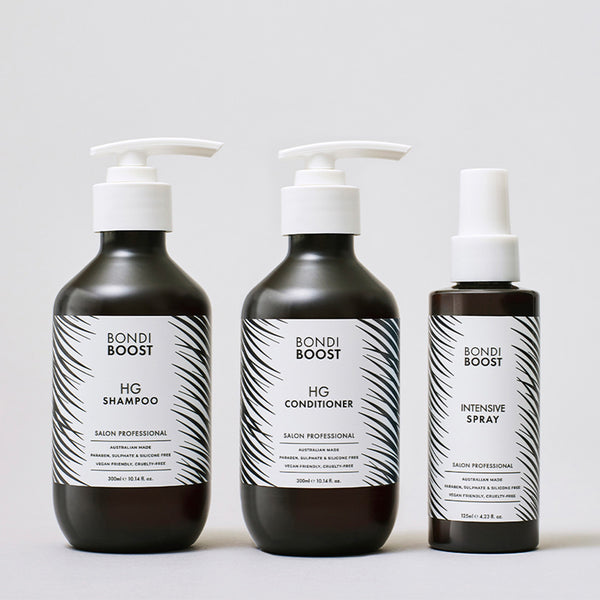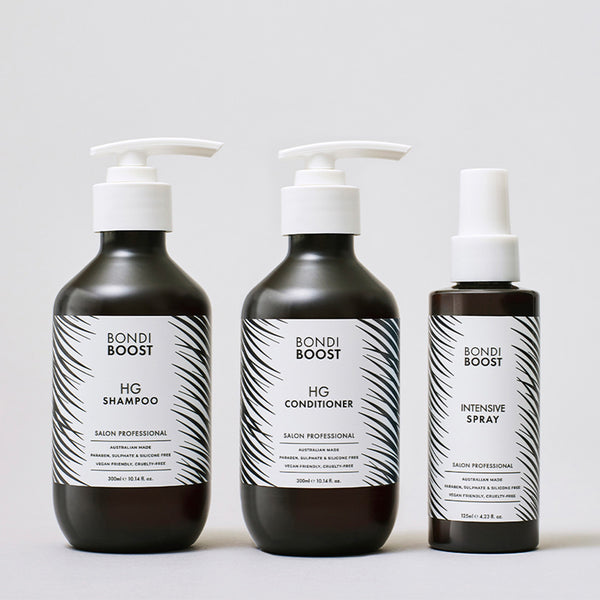 Supercharge your roots and reach your #hairgoals with our best selling bundle. Packed with our signature complex (Rosemary, Peppermint, Saw Palmetto, Stinging Nettle) you'll be on your way to better hair days in no time.
WHY YOU'LL LOVE THIS BUNDLE

Free from silicone, parabens, sulfates, mineral oils, palm oil, phthalates, propylene glycol, petrochemical cleansers, artificial colors, artificial fragrances, DEA, MEA, TEA, formaldehyde and drying alcohols.
Contains natural and organic ingredients.
Safe for colored + chemically-treated hair.
Vegan-friendly + cruelty-free.
CONTAINS
1 x BondiBoost HG Shampoo (300ml)
1 x BondiBoost HG Conditioner (300ml)
1 x BondiBoost Intensive Spray (125ml)
OTHER DETAILS:
As your exciting journey to natural haircare formulations begins, some users may temporarily experience oily hair as a result of the detoxification process your scalp may go through, as it rebalances from chemicals to natural ingredients. Some customers have found common remedies like adjusting wash frequency, thorough rinsing, decreasing the amount of product, rinsing with apple cider vinegar, and salt scrubs to help support the hair during this transformation. Please contact our customer service team at wecare@bondiboost.com for more education on what to expect and how to support your hair during this time.
If you're not satisfied, we're not either – that's why we offer a 30-day money back guarantee. Yep, we'll happily refund your cash on any of the BondiBoost range if you're not completely happy with our products after a full 30 days. For more information on our refund policy or to start a return please click here.
FAQs
Our products are gentle enough to be used daily, but we don't recommend over washing as this can dry out your hair and strip the scalp of its natural oils. Therefore, for normal hair types, we recommend washing 1-3 x per week. For dry hair types, we strongly recommend washing 1 x per week.
Our products have not been specifically formulated or tested for pregnancy or breastfeeding Mammas. It's best to reference our listed ingredients with your doctor before use.
Yes! We don't contain any DEA (diethanolamine), MEA (monoethanolamine) & TEA (triethanolamine), sodium chloride, parabens, sulphates, silicones, petrochemical cleanse, drying alcohols, ethanolamines, butoxyethanol, formaldehyde, mineral oils, BHA + BHT in our products. Many of our products are fragrance-free or naturally scented and over 98% natural with many organic ingredients. We're vegan friendly, cruelty-free and safe for chemically and colour treated hair.
While our products are very gentle and over 98% natural, they're not formulated for children. Please review the ingredient list with your doctor first to alleviate any concerns.
WHAT OUR CUSTOMERS
ARE SAYING
Product reviews are provided for informational purposes only and reflect solely
the views and opinions expressed by the contributors and not those of BondiBoost.
We do not verify or endorse any claims made in these reviews.